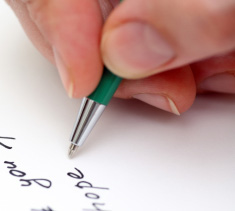 PCN Appeals Procedure
All offenders can appeal against a PCN by following the procedure below:
Please state your case in writing within 14 days of issue to: PCN Appeals, Atlas Enforcement Ltd, PO Box 7310, Derby, DE1 0GQ

.

All correspondence must include your name, address, and PCN reference number.

You must supply evidence as to why you parked in violation of the parking terms and conditions as stated on the contractual warning signs erected on the land.

Your appeal will be acknowledged in writing within 14 days and a reply to your appeal will be issued within 35 days of receiving your written appeal.

If your appeal is successful your PCN will be cancelled.
Please note that Atlas Enforcement Ltd adhere to the BPA code of Practice for the collection and processing of data and is an AOS member. PCN issued has been done lawfully and the collection procedure will be processed in accordance with the Administration of Justice Act 1970.
For your Information
With an ever-increasing number of cars on Britain's roads, managing traffic and car-park spaces is about safety and ensuring fair treatment for pedestrians and drivers of all vehicles.
One of the British Parking Association's main aims is to raise standards across the parking industry. This commitment means helping to increase public awareness and understanding of the rules and regulations about parking, be it on a street or in a multi-storey car park.
The guide, produced in association with Consumer Group Which, will take you through everything you need to know about parking and where the right place is to safely and legally park your car.
Link to the Which Guide to Parking: Download the Which guide
Link to the Consumer Guide: Download the BPA Consumer guide
Supreme Court Judgement for Beavis v Parking Eye.
Supreme Court ruling that the Parking Charge Notice on Private Land is a fair and justifiable charge https://www.supremecourt.uk/cases/docs/uksc-2013-0280-judgment.pdf.
BPA code of conduct: http://www.britishparking.co.uk/write/Documents/AOS_Code_of_Practice_October_2015_update_V6..pdf
Disclaimer: Using this link will let you leave a website of Atlas Enforcement Ltd. The linked site is not under the control of Atlas Enforcement Ltd and Atlas Enforcement Ltd shall not be responsible for the contents of any linked site or any link contained in a linked site, or any changes or updates to such sites. Neither is Atlas Enforcement Ltd responsible for webcasting or any other form of transmission received from any linked site. This link is provided to you only as a convenience, and the inclusion of any link does not imply endorsement by Atlas Enforcement Ltd of the site.